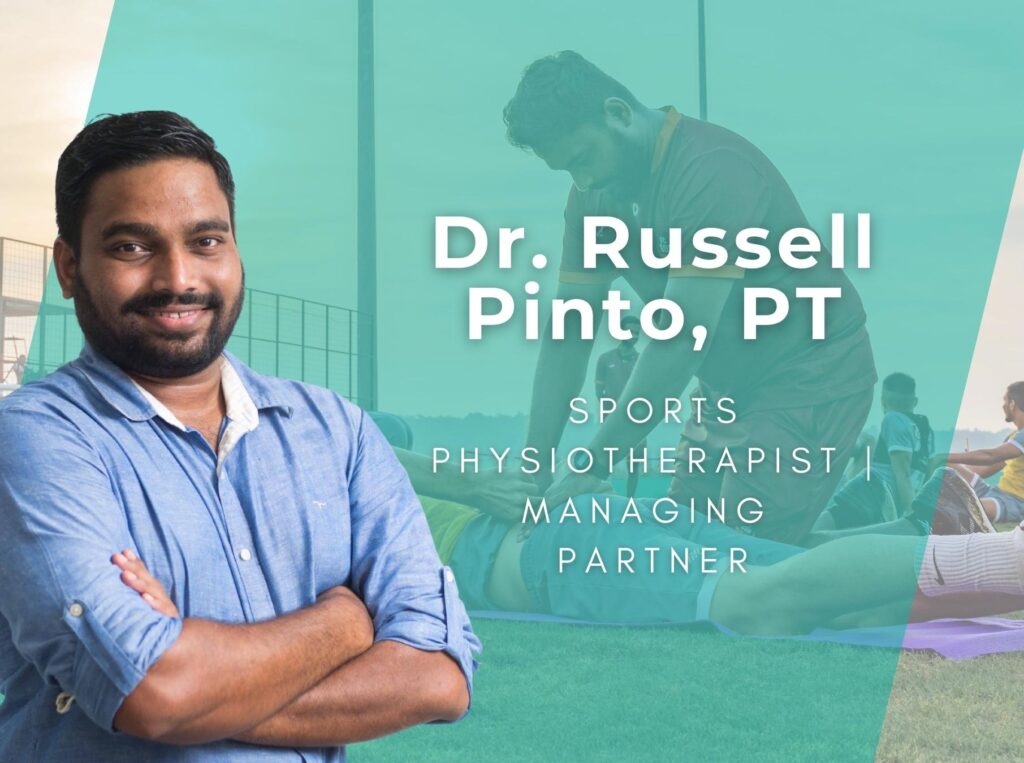 Profession: Sports Physiotherapist
Specialities: Sports Physiotherapy


Areas of service: Margao and surrounding areas, Panjim and surrounding areas
BPT, Father Muller Medical College Hospital, Mangalore

MBA in Healthcare Management, Sikkim Manipal
MSc High Performance Sports: Strength & Conditioning, Catholic University of Murcia, Spain
FIFA Diploma in Football Medicine
Basic Life Support Healthcare Provider (CPR & AED) by American Heat Association
Kinesiology Taping KT1 & KT2 from American Kinesio Taping Association
Dynamic Taping Certification
General Taping Certification
Mulligan Concept of Manual Therapy
Dry Needling Module
Clinical Proprioceptive Neuromuscular Facilitation – Basic Principles and Applied Techniques
Certification in Manual Therapy from Father Muller Medical College 
Cupping
Evidence Based Physiotherapy Practice
Physical Fitness Testing and Sports Specific Assessment
Evidence Based Physiotherapy Practice
Integrated Myofascial Release Therapy
Evaluation and Management of Myofascial Dysfunction
Matrix Rhythm Therapy

Research & Publications
Effects of Blood Flow Restriction Training in Patients with Knee Ostheo Arthitis – A Systematic Review (to be published in Biomed Research International)

Profession: Sports Physiotherapist

Specialities: Sports Physiotherapy

Clinic: Margao & Panjim Goa

Areas of service: Panjim, Margao, Porvorim
Home visit fees: starting from ₹ 1500
BPT, Father Muller Medical College Hospital, Mangalore
MBA in Healthcare Management, Sikkim Manipal
MSc High Performance Sports: Strength & Conditioning, Catholic University of Murcia, Spain

FIFA Diploma in Football Medicine
Basic Life Support Healthcare Provider (CPR & AED) by American Heat Association
Kinesiology Taping KT1 & KT2 from American Kinesio Taping Association
Dynamic Taping Certification
General Taping Certification
Mulligan Concept of Manual Therapy
Dry Needling Module
Clinical Proprioceptive Neuromuscular Facilitation – Basic Principles and Applied Techniques
Certification in Manual Therapy from Father Muller Medical College
Cupping
Evidence Based Physiotherapy Practice
Physical Fitness Testing and Sports Specific Assessment
Evidence Based Physiotherapy Practice
Integrated Myofascial Release Therapy
Evaluation and Management of Myofascial Dysfunction
Matrix Rhythm Therapy

Effects of Blood Flow Restriction Training in Patients with Knee Ostheo Arthitis – A Systematic Review (to be published in Biomed Research International)
Dr. Russell Pinto, PT co-founded Physiotherapeautics by FAHS (Father Agnel Health Services) in 2014 together with Dr. Roseanna Pereira, PT at Chowgule College in Margao and has big plans for his company. In 2020 he opened the second branch of Physiotherapeautics in Panjim together with his managing partner Dr. Sweezel De Souza, PT, and in July 2021 the third branch, taking over the Physiotherapy and Sports Rehabilitation Department at Horizon Hospital, Margao. In January 2022, the first clinic outside Goa opened in Mumbai, together with his managing partner Dr. Simone George Gomes, PT. The next branch is planned to be opened in Vasco in the first half of 2022.
After his own professional football career ended at a young age due to a badly managed injury, the dream took shape in preventing other players from the same fate by becoming a world class physio. Among the best in his studies and using every opportunity to improve his practical knowledge, he soon started to make a name for himself in the world of Football and Kabaddi. In his 10+ years of practice, he has worked with many clubs:
Indian National Team (Men), Intercontinental Cup 2023
Indian National Team (U-17) FIFA World Cup 2017
FC Goa (7+ seasons ISL & Asian Champions League 2021)
ATK Mohun Bagan (1 season ISL & Asian Champions League 2022)
Dabang Delhi K.C. (Pro Kabaddi) (4 seasons)
Indian Olympic Football Team 2015
India U-14 Team 2013 (1 season)
Goa State Football Team at the Santosh Trophy 2015
Salgaocar FC, Youth Development (1 season)
Brazil Football Academy (1 season)
Dabang Mumbai Hockey Club (1 season)
CE L'Hospitalet, Spain (internship)
Being an ISL veteran, Dr. Russell has started post- and pre-season training camps in our Margao clinic with access to its big artificial turf, gym and other facilities of Chowgule Sports Centre. With our team of other ISL veterans like the sports physician Dr. Sandeep Kumar and the Orthopaedic surgeon Dr. Nelson Pinto, we are well prepared for all kinds of rehabilitations.
Last but not least, why don't we let Dr. Russell introduce himself: